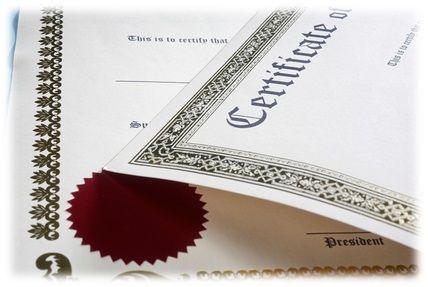 ENGLISH CERTIFIED TRANSLATION
Do you know what an English certified translation is? Do you need an English certified translation and you are not sure about who can do the job? Do you find the terms certified translation, sworn translation, official translation, etc. perhaps confusing? In today's post, we are going to analyse what a certified translation is, its characteristics and much more.
First of all, a certified translation can have different names: certified translation, sworn translation, public translation or official translation. But it corresponds always to the Spanish term 'traducción jurada'. A certified translation consists of a translation that bears a seal and signature of a certified (or sworn, official, etc.) translator. It should result from no interpretation from the certified translator, who must translate it the most exact and faithful way possible.
And… what is a certified translator then? A certified translator is a professional appointed by the Spanish Ministry of Foreign Affairs, European Union and Cooperation. In order to be appointed certified translator, one must pass some exams organised by Interpretation of Language Office. When a translator has passed such exams about language, law and translation, he/she becomes a certified translator and is entitled to carry out certified translations. Here you can find more about certified translators and the exams: http://www.exteriores.gob.es/Portal/es/ServiciosAlCiudadano/Paginas/Traductoresas.aspx
Once we have clarified the main aspects, what documents can be translated as a certified translation? Most people think that a certified translation and a legal translation is the same thing. Well, it is not. Even if some certified translations are indeed about law, it is not the case for every certified translation. In fact, a certified translation can affect every field or branch of knowledge. A certified translation can be made about a medical report, company minutes, Civil Register certificates, academic degrees, annual accounts, medical analysis… A certified translation can be carried out for almost every document in the world. The fact that a certified translation bears the signature and seal of a certified translation is a guarantee that the translator has passed some exams and is believed to have some specific skills to perform this kind of translation. That is why certified translation is not connected specially to any field, its purpose is to assure that a proper and entitled translator has performed the certified translation.
So now we know that a certified translation is a document translated by a certified translator who is appointed to do so, that is, to translate in an official way and with 100% accuracy. But, what can a certified translation be useful for? If you need a document for private purposes, maybe there is no official need for a certified translation. Nevertheless, if you are dealing with the Public Administration of your country, or even the Administration of a foreign country, it is frequent to be asked for a certified translation of your documents. That way, the Administration can be sure that your document is translated accurately and that is says exactly what the original document says. To sum up, a certified translation is a way of guaranteeing the quality of a translation to the Public Administration.
And finally, what do I do if a need to contact a certified translator? In Itrad, we have a great and competent team full of certified translators. All of them are appointed by the Spanish Ministry of Foreign Affairs and are entitled to do certified translations. We can assure you a maximum quality. We will carry out a certified translation of your document, whatever they may be. If they are medical reports, accounts statements, payslips, Last Will and Testaments, powers of attorney, contracts… we will find the most competent certified translator among out team and he/she will do the certified translator. Send us your documents through email to info@itrad.es and we will give you a budget without any obligation. For additional information, visit out website: https://traductoresjuradositrad.com/